Felting, botanical dye, wearable art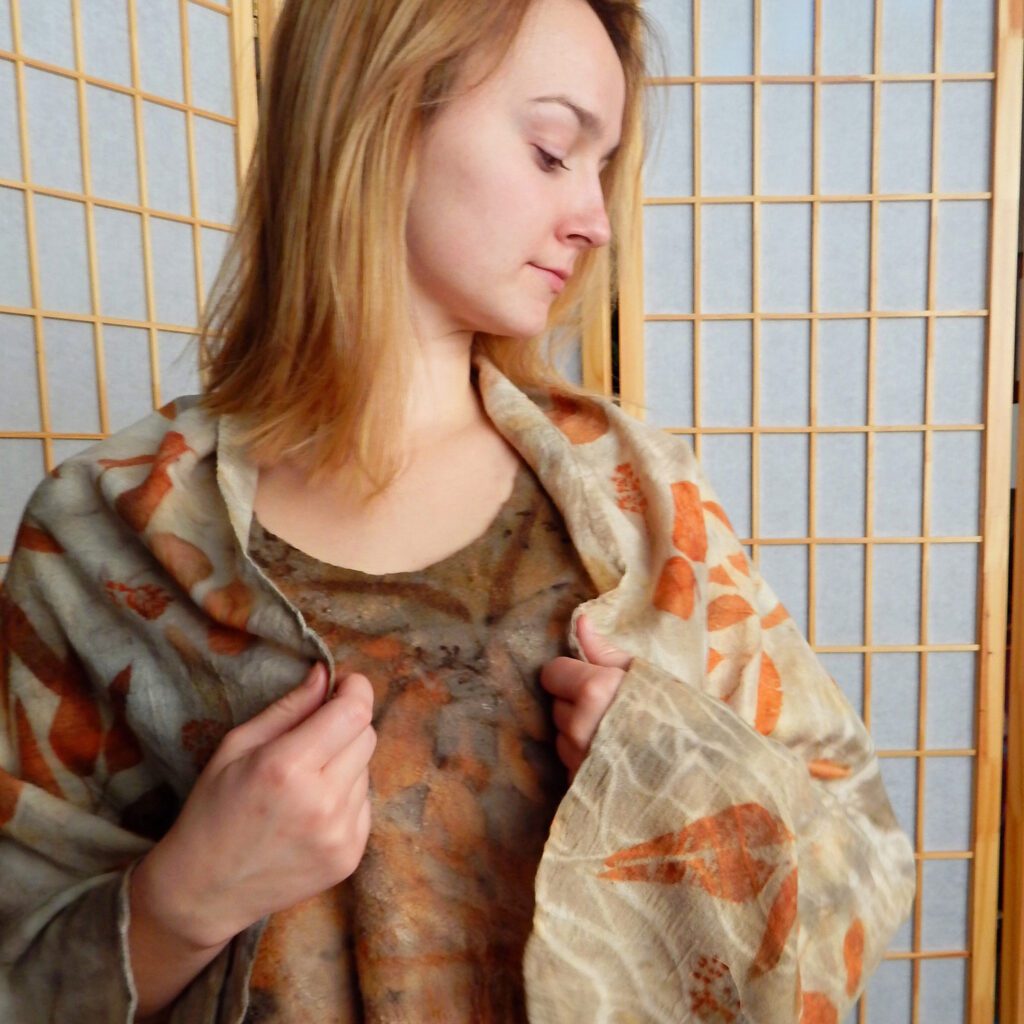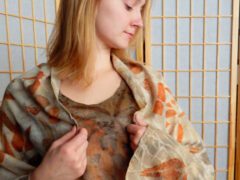 Artist Bio
Terry Shearn is a Fiber/Textile artist who uses carded wool to create seamless wearable art using the nuno felting technique.  Each piece is created from hand dyed silks, or silk lap with layered hand dyed wool roving that is worked and sculpted to create a seamless unique piece. Her pallet includes items such as wool locks, mohair, thread, recycled sari silk.  As the fabric is created, so is the garment making it a flowing sculptural experience.  Hats are created using hand dyed wool roving in layers to create a seamless form that is then sculpted into warm, unique hats.  Terry also uses natural dyes such as Eucalyptus or Walnut to create both prints from the botanicals or dye baths in her process, creating earthy, natural patterns on wearable art, table runners, and framed art pieces.
Terry has been working in this medium for over ten years and has been a costume designer for over 30 years. Her work is has been featured in Foothills Magazine,  participated in the Placer Arts Studio Tour 2014, 2015 and 2017. First place award in the Fiber Art Expect the Unexpected Show at the Art League of Lincoln and the Blue Line Gallery Art of Fashion Show. Best of Show Award Reno ArtFest 2019. Her work is currently available at Riverside Gallery – Truckee, CA, High Hand Gallery in Loomis, CA, and various art shows throughout the year. She lives and creates in the beautiful Sierra Foothills town of Dutch Flat, where she finds her inspiration from the surrounding natural world.
Artists Statement
While growing up I had unusual taste in clothing. I was tall and thin, nothing seemed to fit my body or style. This began my love of making, first with my own clothing and then on to sewing costumes for local renaissance festivals and later though a website at the birth of such things called Renaissance Wear where I created custom clothing for SCA events, weddings and stage. Loving fiber/textiles I attended several classes in basket making, art, design and sewing both though college courses and workshops. I have worked with many natural mediums to create and discovered the versatility and endless possibilities of wool roving to create garments, and art pieces. The desire to create colors that match my imagination lead to explorations in dyeing. Explorations in dyeing then lead to the joy of natural dyeing, using plants, mushrooms, and lichen to create color. Anyone who stops by my studio, takes one of my workshops or drops by my booth at an art fair knows how enthusiastic and excited I am by the journey of my work. It is a lifelong experiment.
Medium: Felting, botanical dye, wearable art, weaving, functional art