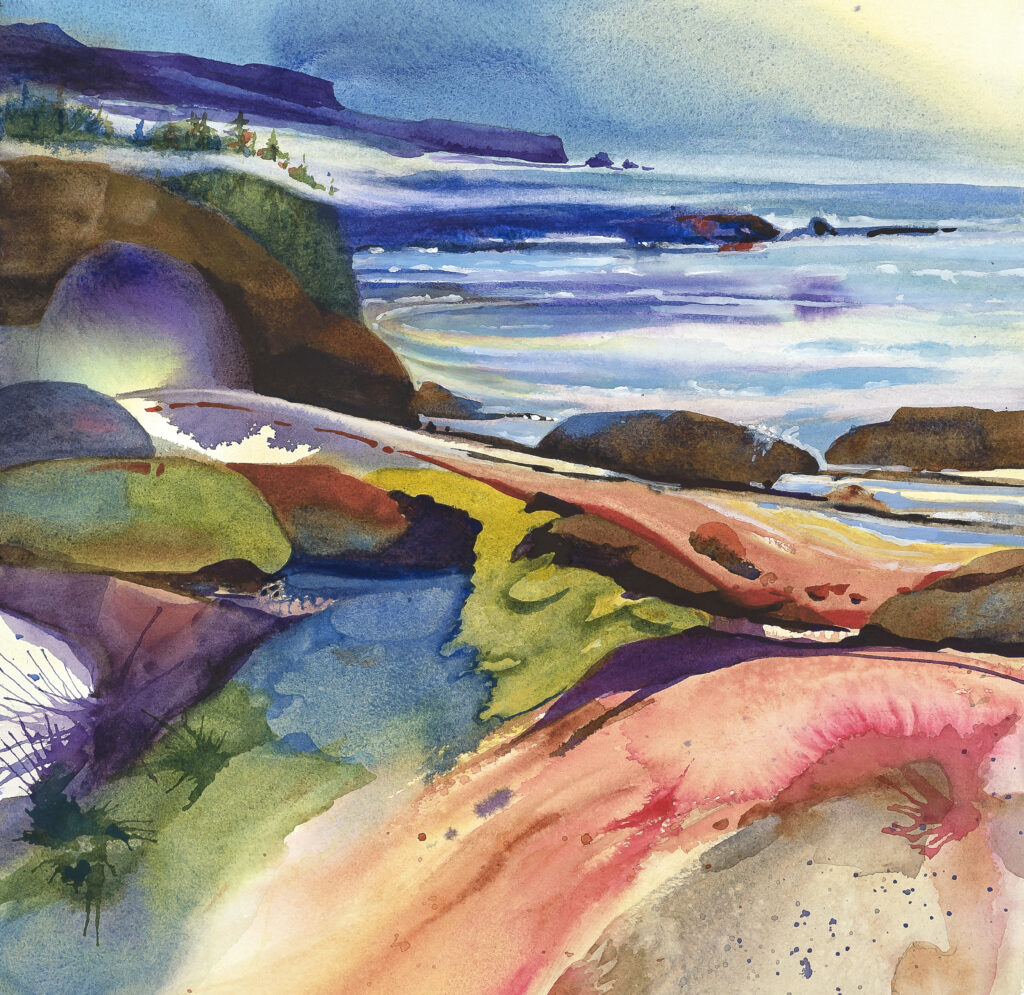 An award-winning Northern California artist, Susan's passion for the outdoors and respect for nature channels her energy, inspiration and imagination in her paintings.California's diverse forests, vineyards, coastline, mountain lakes and pasturelands offer abundant creative opportunities.
"Nature's moods are limitless…a constantly changing interplay of light and shadow, atmosphere, color and reflection. The vibrant nature of watercolor's translucent pigment reflects my personal interpretation of sound and mood.  I find myself looking for 'the painting' in every watery pond, cloud pattern, shadowy doorway, and brilliant seasonal change. I want the viewer to be drawn into my painting by visualizing a story with passageways for exploration and joy".The Medium Water induces feelings of calm and meditation.
"The nature of watercolor is to 'float' and settle…the trick is to let the pigment flow freely…and let the water do the work." Rich layers of colors allowed to dry between layers create the desired jewel-like glazing effect -producing luscious, juicy, translucent depth in glowing colors that seem to vibrate from the surface of the heavy rag papers. Years of watercolor instruction and class work pushed Susan to evolve her own unique and color-intense style.
"I had painted in various medium all during my younger life, but when I picked up a watercolor brush over 40 year ago, I was hooked! In 1994 my style took an unexpected leap when I became a student of master Chinese Watercolorist Lian Quan Zhen. His ancient pouring method using only a triad of primary colors contributes to my growth as a valid painter".
Awards: Best of Medium (watercolor), Sonoma County Harvest Fair 1996 1st Place, Amateur, Watercolor, Sonoma County Fair 1997 1st Place, Watercolor, Sonoma County Harvest Festival 1998People's Choice Award, Aqua Areas Annual Watercolor Show 2000Honorable Mention, Aqua Areas, Sonoma County Annual Open Watercolor Show 2015First Place –Artists Roundtable –February,June and October,2016First Place, Best inSection and Best of Show, 2016 Sonoma County Harvest FairFirst Place –Professional, Apple Blossom Festival, 2017First Place and Best in Section, Professional–2017 Sonoma County FairFirst Place –2017 Sonoma County Harvest Fair2018 Artist of the Year –Artists Roundtable all media art club, Santa Rosa, Ca.
Medium: Painting – oil, acrylic, watercolor, pastel