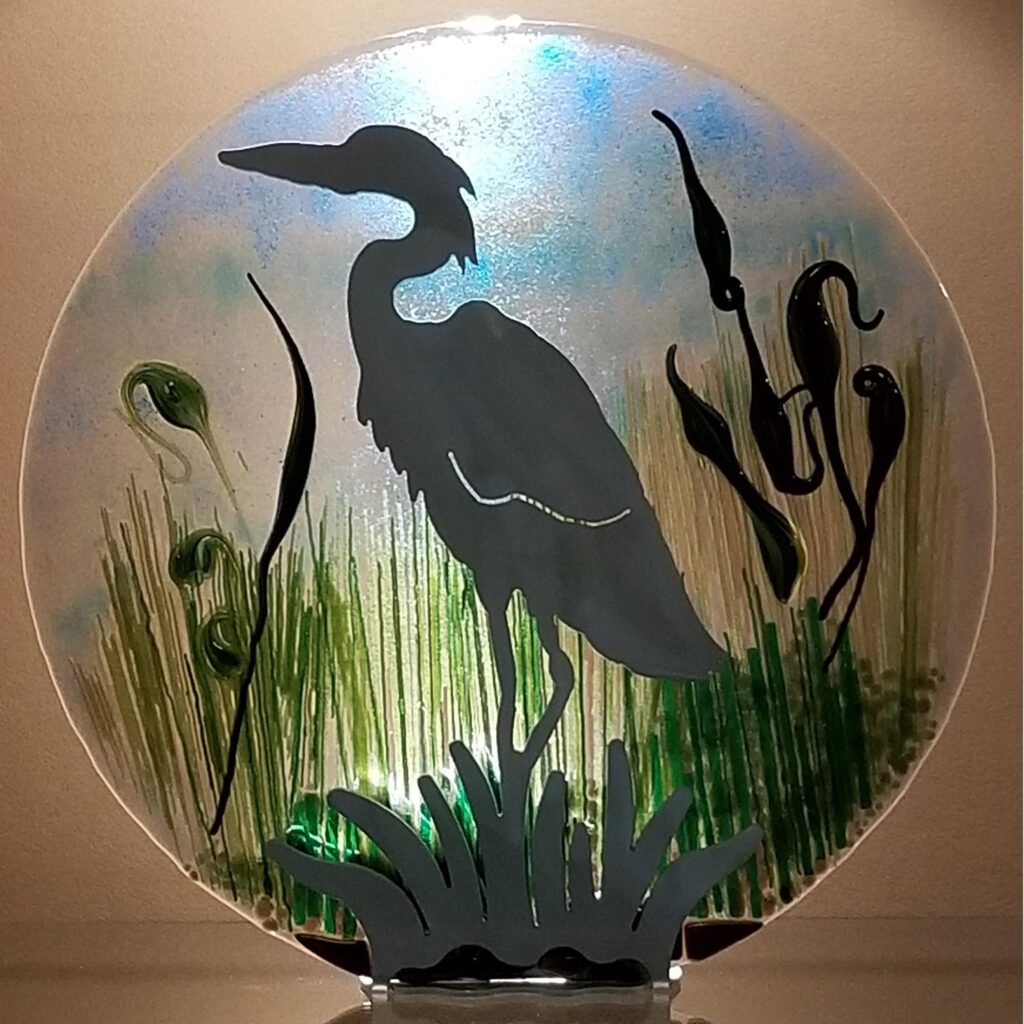 Beginning as a child I was involved in all sorts of crafts and dabbled in stained glass. It wasn't until watching glass blowing demonstrations all day long at the 1997 California State Fair, I truly decided collecting glass was not enough. I tried glass blowing with Phil Teefy in Sacramento which required strength and numerous kilns and tools. He referred me to fused glass which has lower temperatures and less kilns than glass blowing. Fast forward to 2021 and I have collected all sorts of kilns and tools in my studio.
I start out cutting sheets of glass using a hand cutter, and also use a ring saw and a tile saw—all with diamond blades. Grinders help to shape and smooth the glass edges—two grinders shape and smooth the glass, while a flat lap grinder polishes. Other tools to polish are wet belt sanders, a dremel, and lots of handwork.
Working with glass is dusty and dirty, often very wet, —you won't see clean glass during the process. I am often wearing goggles, a respirator and gloves. From ramping to soaking to fire polishing to fusing to casting, my glass work is kiln formed in an electric kiln with temperatures between 1250 and 1900 °F — different temperatures and time for the kiln forming process I have chosen. When I fire the kiln, I may not be able to touch my pieces until 24-36 hours later when they have cooled to room temperature. Pieces are usually fired two or more times. My small kiln is 13" round and my large one is like a 24×40" bathtub. Glass stringers, powders, micas and paint are my favorite glass supplies. I like to experiment with inclusions – from copper sheet to gold leaf to copper wire; from plants and ash; as well as reactions between the copper and sulfur ingredients of glass.
You might look at one of my artworks and wonder what is in there? Fascinated by the interactions of color, intense heat, light, shape, texture, chemical reactions and inclusions my glass style is continually evolving as I innovate with glass art and the science of glass.
I have enjoyed teaching elementary school students the Science of Glass and encouraging future artists. My work is colorful, unique, and combines mixed media with glass art. Introduced to the ancient craft of Kumihimo, I like to combine unique pieces of opal looking glass jewelry with Kumihimo style beaded braids.
Dale Chihuly, Monet and Narcissus Quagliata are inspirational; I have studied with Barbara Kee, Laurie Lee and others in the glass community. I am inspired by the members of Rocklin Fine Arts, river artwork by Marty Stanley, as well as the calming nature of the ocean and redwoods.
My glass art is more impressionistic and natural which shows in my creation of one of a kind baskets, bowls, baubles and art. You can find transparent glass in all of my work as I like the way light can transmit and reflect colors, light, and layers with the glass.
Medium: Jewelry, Glass Art