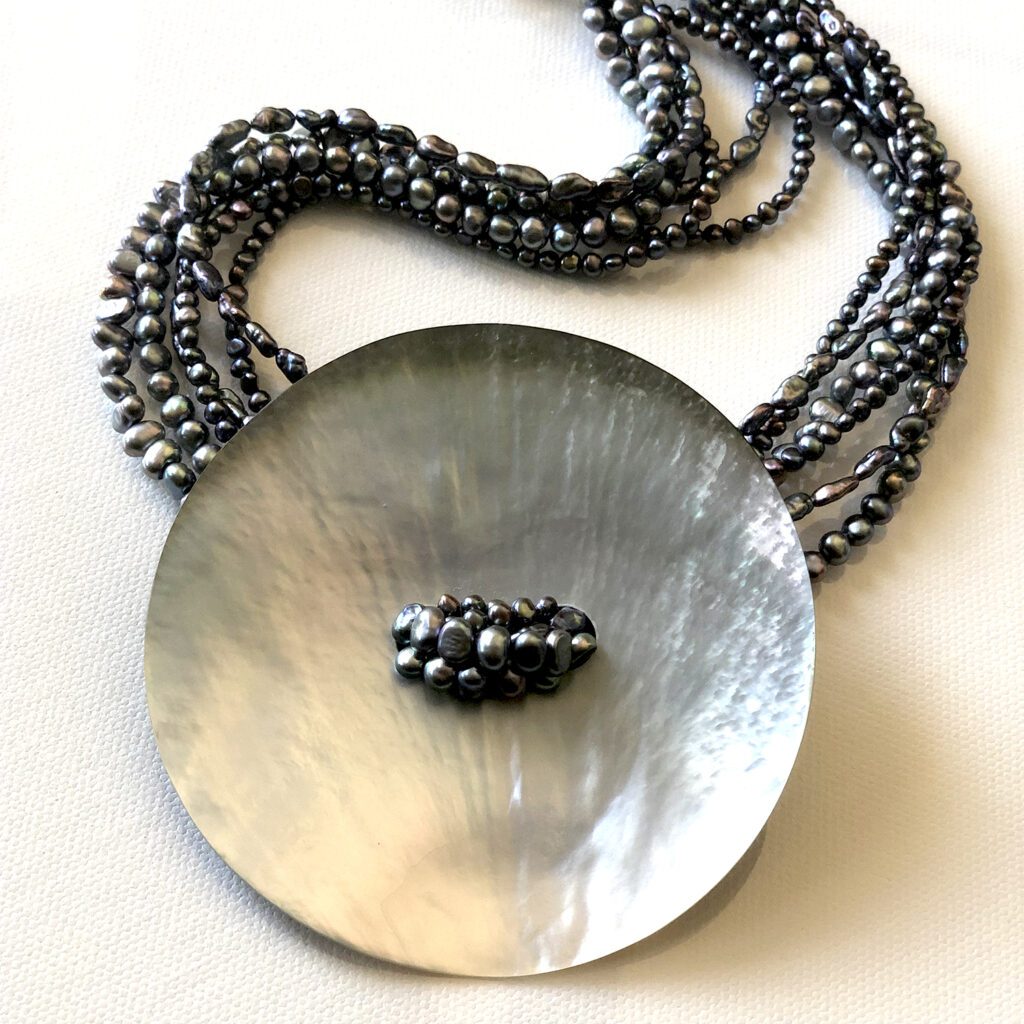 I moved to Auburn in the Fall of 2004 from the Bay Area. In 2006 I participated in Leadership Auburn to find out more about the area I moved to. 
I have been a member of both the Foothill Quilters Guild and the Pioneer Quilters Guild.  Participated as a vendor in quilt shows through out California, and a few in Arizona, Oregon and Washington. I have also been a member of Soroptimist International of Historic Auburn for 10 years holding various board positions and consider myself an excellent networker.
The inspiration for my art comes from my travels. Natural elements, antiquities, unique beads and fibers are combined to create my different pieces. 
Jewelry: Designed using beads of various kinds and specialty pieces. My process is to purchase bits and pieces and assemble them in necklaces, bracelets and earrings. I use antique, ethnic and found pieces as center pieces with beads of the highest quality. Some of the type of beads I use are pearls, coral, glass (Venetian, lamp work), stones, bone, amber, etc.
Fabric Art Wall Hangings: Combine natural, cultural and historical elements into a mixed media wall hanging.   
Woven scarves: Created with wool with a some acrylic. The yarn I chose for the soft texture and color combinations. I try to come up with unusual but complimentary color combinations. This is a relatively new venture for me. I plan to learn to weave more complicated patterns as well as table runners, kitchen cloths and place mats.
Additionally, I sell embellishments to art quilters and people who make wearable art so would plan on having these items available for sale.  I also use embellishments in my art wall hangings and embroidery work.
I have participated in the following art events in Placer County; 
Egg Plant Festival 

Numerous art shows at the Flower Farm 

Various shows through Arts Council of Placer County 

14/15 years in the Studios Tour where I was on 
–The Tour Steering Committee past 8 years
–Sponsorship Chair for past 5 years
Participated in a handful of Art Walks

Taught numerous classes to quilters in embellishing art quilts and sewing techniques
Mediums: Jewelry, Mixed Media – 2D, Textiles: fiber, silk, cloth, wearable art, etc.