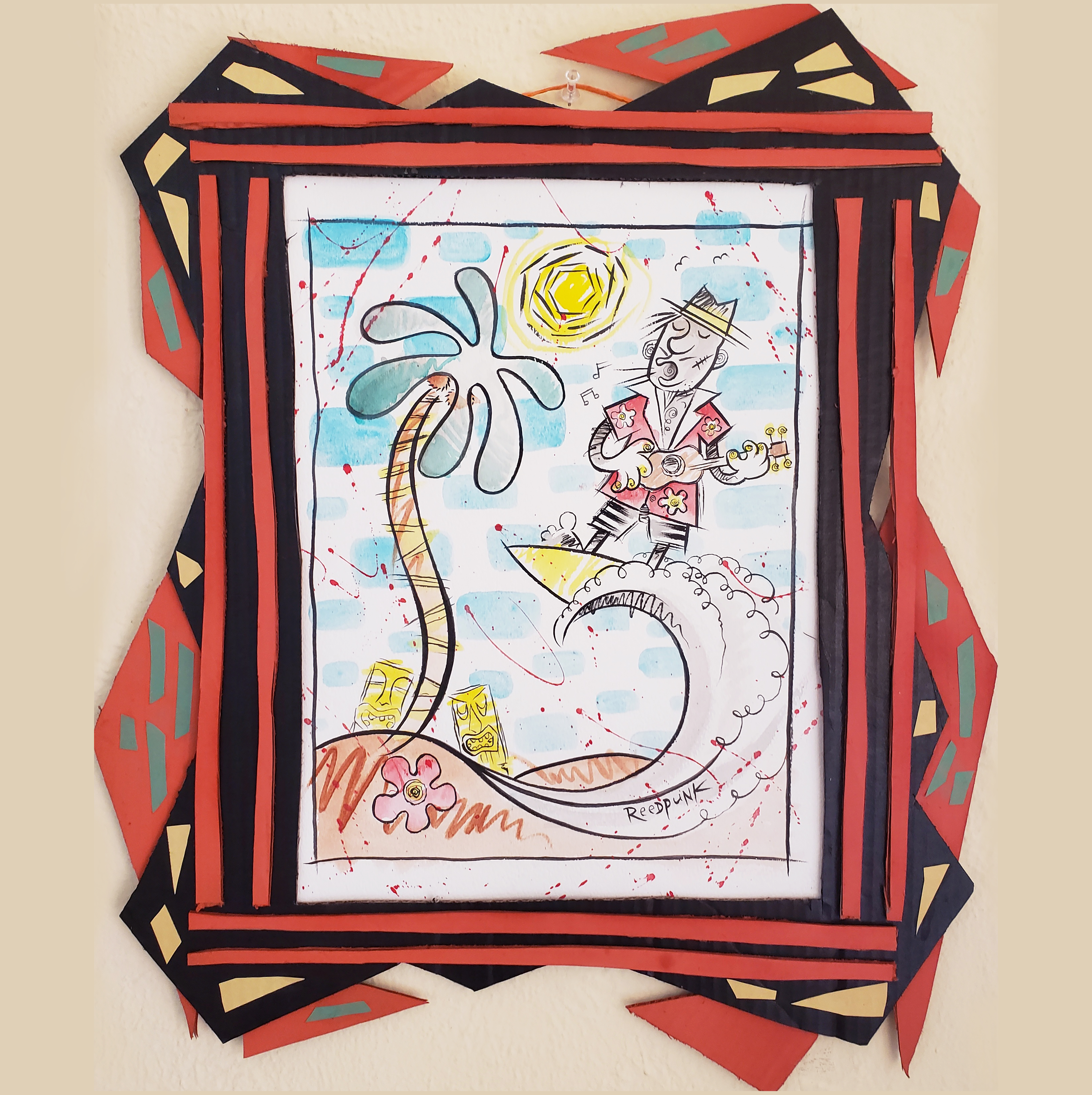 Hello my name is Eric Reed and I have been making a living as an artist for the past 30 years.
I mostly work with acrylics on paper or canvas and use recycled or found materials to frame my works. Some of my earliest memories are smells of drying surfboard resin rolling out of my fathers' garage in Hermosa beach and him working on his artwork. I have carried the love of the surf lifestyle with me ever since and most of my artwork is beach or nature related. At an early age my parents opted out of the regular lifestyle most people are accustomed to, packed up the whole family and moved us into an off-grid hippie community in the Northern California mountains. My father and his friend built a 16×16 ft. cabin in 3 days and our relationship with the mountains was born. We lived in the cabin for several years with no electricity or running water while the family built what we all called the big house. I lived in the mountains till the age of 17 and moved back down south where Malibu and Santa Monica became my playground. Realizing that art was my calling I moved to San Francisco with dreams of becoming a tattoo artist and those dreams came true very quickly for me. I have been tattooing as my trade for the past 31 years and have owned a tattoo shop in Alameda Ca for the last 10 years. While working as a Tattooer I have done many jobs as an artist. I have Done dozens of Album covers, worked for many Clothing company's, skateboard company's etc, etc, doing graphics and started my own online business selling my art in the form of coloring books, Clothing, stickers, iron on patches and many other products.
Then the pandemic hit temporarily closing my tattoo business. I realized quickly i needed to do something to bring in money to survive and feed my family. I figured It was time to try and sell my paintings online. Making a living selling my paintings has always been on the list of goals to accomplish but I always figured it would be too hard, therefore I never attempted it. Luckily for me I have an online fanbase that is pretty loyal to the strange style I do and the orders instantly started rolling in. Throughout the entire pandemic I have been busy enough to have several art jobs at a time going on and realized that I was making enough money to actually make a living at Being a full-time painter. Unfortunately, it was not enough to pay the extremely high bay area prices so we decided to move to Rocklin as my parents have been living here for the past 20 years and being closer to family is our priority especially with a 6 year old boy who wants to be near his grandparents.
So here I am. A year later living in Rocklin and loving it. Getting ready to do this art walk with my father  Bill Reed in my new studio writing and illustrating a children's book about my boy playing in his new playground Whitney Park. If you come by I will be showing paintings big and small, Illustrations from the children's book I am working on, custom created clothing, greeting cards and much more.
Mediums: Oil, Acrylic, Watercolor, Pastel, Textiles